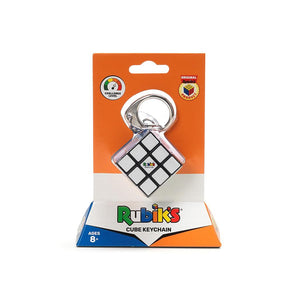 ORIGINAL RUBIK`S CUBE ON A KEYRING: A combination of mathematics, art and science, the iconic Rubik`s Cube challenges your mind and problem-solving skills. We have made this classic 3x3 cube into a smaller size so that it can come with you wherever you go
TURN, TWIST, REPEAT: Turn and twist the sides of the adult puzzle so that each of the six faces only has one colour. The classic Rubik`s Cube is incredibly addictive and has fascinated fans for decades. Try this travel version of our classic brain teaser
TRAVEL SIZE PUZZLE: The keyring is small enough to fit on your keys or attach to your bag. Rubik's 3x3 Keyring Cube is a compact, travel size puzzle providing hours of fun for you and your friends anywhere, anytime.
A MUST HAVE FOR PUZZLE LOVERS: This original cube has 43,252,003,274,489,856,000 combinations, but only one solution. Do you have what it takes to solve the world`s favourite puzzle on the go?
IMPROVED DESIGN: All the features of the original cube just in a compact size. The perfect addition to your keys or as a gift for any RubikÕs fan.