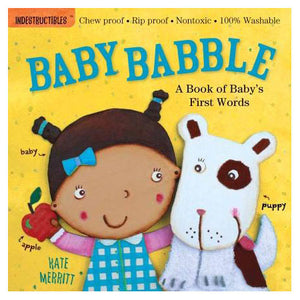 Here is another indestructible baby book that babies and parents love.
Baby Babble is a wonderful baby vocabulary book which features baby at the table, baby at play and outside baby's window. Help them learn some of babies first words such as, spoon, socks and cloud. Both baby and parent will enjoy sharing this learning experience.
While learning is wonderful, these indestructible books are definitely a plus. 100% baby-proof, chew-proof, rip-proof, and drool-proof. It is printed on nontoxic paperlike material that holds up to anything babies can throw at it. If it gets dirty, just throw it in the washing machine or dishwasher and you are good to go.
Indestructibles - Baby Babble
Indestructible baby book featuring baby words from their environment
Great for verbal communication and hand-eye coordination
100% baby-proof
Printed on nontoxic paper
12 pages
Machine and dishwasher safe