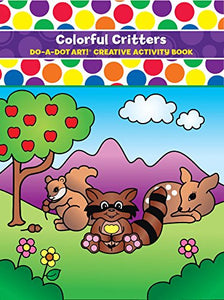 Cute little critters share the wonderful world that we live in. Colorful Critters coloring book is a collection of lovable animal characters including Raccoons, a Curious Alligator, A Sly Fox, and much more! This fun book is a great layered learning tool for you and your little one to explore color while getting to know all their animal friends.
Includes:
Big, bold artwork makes it easy for children to feel successful when coloring in all of our fun art activity books.
Designed to cultivate the budding artist in your little one. You will notice our graphics have been designed to work with the large sponge tips of Do A Dot Art! Markers, while at the same time not deciphering where each dot goes, so your little one has the joy of turning each page into their own work of art.
Printed on heavy card stock paper to prevent bleeding.
Perforated for easy removal and display.