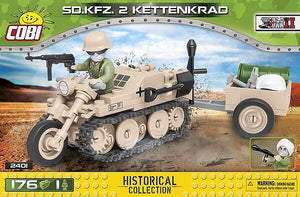 The Kettenkrad is one of the most unusual vehicles of the Second World War. It resembled a combination of a motorcycle and a tracked vehicle. The construction was so successful that even allied troops used captured units of this vehicle. The Kettenkrad was designed in the late 1930s. In 1941, it officially entered service with the Wehrmacht. It proved itself effective in difficult terrain as a light towing vehicle, tractor or supply transporter. It could also carry machine guns, mortars and drums with telephone cable.

The Sd.Kfz.2 Kettenkrad is entirely designed with COBI building blocks. The use of 170 blocks allowed us to faithfully recreate not only the vehicle itself, but also the trailer filled with supplies. The set does not contain stickers, only pad printings! The blocks are covered with high-quality prints that do not smear or scratch even with heavy use. A German soldier's figure in Afrika Korps uniform is included. The sensational, versatile head with a print of a scarf on the face is sure to find many applications among fans of COBI bricks. The whole set is complemented by a long list of accessories such as tools, armament, headgear and a special brick with the vehicle name printed on it. An interesting feature is the tilting flap, under which there is a detailed print of the engine. The kit is ideal for the construction of dioramas recreating the struggles in North Africa, Eastern and Western Europe. The Kettenkrad set is a great gift idea for any military fan and a great reason to start your adventure with COBI building blocks.
170 high-quality components.
Made in the EU by a company with more than 20 years of tradition.
The pads meet safety standards for children's products.
Fully compatible with other brands of building blocks.
Blocks with prints do not smear or scratch and do not fade during play or under the influence of temperature.
Clear and intuitive manual based on drawings and step-by-step directions.
Engine model.
German soldier figure with accessories.
Brick with model name pad printed on it.
The manual contains a card with vehicle statistics for the Historical Battle Game.
Model dimensions (length x height): 16.5 cm (6.5") x 4 cm (1.6").