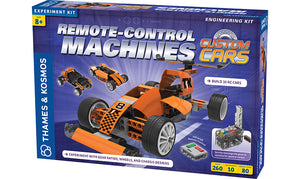 Automotive engineering hits the fast-track with this kit that allows you to construct ten different remote-controlled cars. Build a fast race car that can speed across smooth floors and drive around the room using a precision steering mechanism.
Reconfigure the parts to build other vehicles, such as an off-road buggy that is optimized for power over speed, giving it the torque to overcome rougher terrains.
You can quickly shift gears from low speed and high torque to high speed and low torque by popping open the innovative gearbox housed in an easily accessible central power train unit, which also contains the IR receiver, one of the motor units, and the battery box. The gear train, or transmission, inside the gearbox has four gears that can be easily reoriented to change the gear ratio, optimizing speed or torque.
Build ten realistic models of different cars including a high-speed race car, off-road buggy, go-cart, pickup truck, SUV, dragster, hot hatch, semi-trailer truck, super car, and hot rod. Cool looking auto body plates give your models a realistic appearance, and decals allow you to customize your cars.
The IR remote control unit lets you drive the cars forward and backward, and steer the cars left and right.
Learn about the various components of real cars, such as wheels, transmissions, engines, axles, chassis, electrical systems, brakes, and suspensions. Explore the physics of speed, acceleration, energy, and aerodynamics.
An 80-page, full-color manual guides you through model building with step-by-step illustrated instructions.