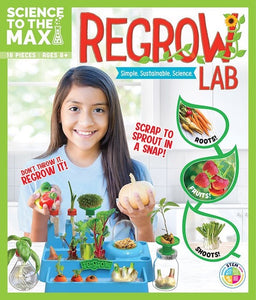 Don't throw it. Regrow it!
This unique science kit gives kids all the tools and knowledge they need to turn fruit and veggie leftovers into a flourishing garden.
They'll learn how to sprout grains of rice, grow an endless supply of scallions in a test tube, and even regrow a new celery plant from scraps!
Introduce your young environmentalist to the joys of botany and sustainability with the 18-piece ReGrow Science Lab.
ReGrow Science Lab
Science kit for regrowing fruit and veggie leftovers
Encourages STEM skills, an interest in botany and environmental science
Learn about the science of sustainable food
Regrow all kinds of different fruits and veggies
Conduct side-by-side science experiments
Create the environment seeds need to sprout
Regrow kitchen scraps in the hydroponic growing tray
Includes ReGrow base, 3 plant stands, plant tray, jar with flange ring and large ring, black dome, clear dome, 3 large lids, 2 test tubes with small rings, bottle with funnel lid, 4 cups
Detailed instructions and experiment guide included
Food scraps not included
High-quality materials and construction - Exceptional experiment and learn experience