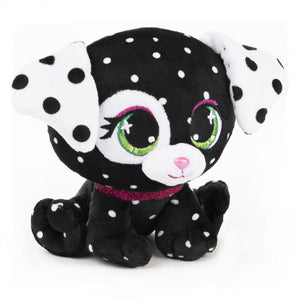 DESIGNER FASHION PET: Dottie Woofington loves setting up the perfect afternoon tea party & dressing to the nines in contrasting black & white polka dots.
UNIQUE MATCHING STYLISH COLLAR: This Manchester girl adds a pop of color with a bright pink glitter collar that matches her eyeliner and highlights her sparkling eyes.
THE PERFECT ROOM DƒCOR FOR FASHION LOVERS: P.Lushes Pets make perfect gifts for girls & room decorations for all fans of designer labels & kawaii dŽcor.
COLLECT THEM ALL: Shop the complete style squad of premium plushie animal fashionistas, including the Limited Edition & rare Special Edition characters.
QUALITY CUDDLES: Known for our huggable plush designs & gifts, GUNDÕs award-winning bears & toys appeal to all ages from infants & toddlers to adults.