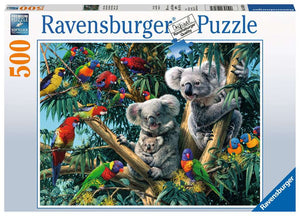 Climb up and join the family — it's time to puzzle our "Koalas in a Tree"!
How cute are koalas? These furry marsupials will warm your heart and give you hours of puzzling pleasure! Perched high in a eucalyptus tree, papa watches over momma and their joey, while a plethora of parrots and several Rainbow Lorikeets keep them company. Did you know koalas have two opposable thumbs on their fore paws? This gives them better grip, essential for climbing smooth-barked trees. So, climb into your favorite chair and enjoy the relaxing benefits of puzzling today!
This 500-piece jigsaw puzzle combines captivating imagery with clean-cut pieces and Ravensburger's perfect interlocking fit for a most pleasurable puzzling experience! Our puzzles are crafted with an exclusive, extra-thick cardboard backing along with our superior, linen-structured paper, so the printed image is vibrant, crisp, and glare-free. Create memorable moments with Ravensburger premium puzzles!
Fun for ages 12 and up! Measures approximately 49 x 36 cm (19.5 x 14.25 inches) when completed.