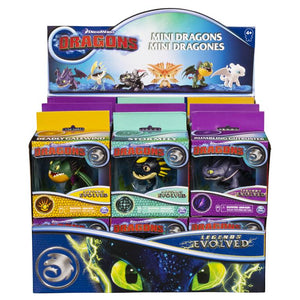 3-INCH COLLECTIBLE DRAGON FIGURE: Each figure stands 3 inches tall and is highly detailed. Add Toothless, Stormfly, Lightfury and more to your collection!
DRAGON CLASS SIGIL: Your Mini Dragons figure comes with a colorful dragon class sigil accessory Ð the Legends Evolved Dragons represent 7 different classes like Strike, Tidal, Boulder and more!
IMAGINATIVE PLAY: Let your imagination soar with your Legends Evolved Mini Dragons figures! Collect them all and create your own exciting dragon adventures right at home!
The DreamWorks Dragons Mini Dragons figures are the perfect gift for kids and dragon trainers aged 4 and up.