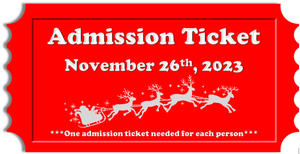 ***********************************************************************
***If tickets are sold out, we will have a separate line for walk ups.***
WE DO NOT SHIP TICKETS, please copy/screenshot you order after checkout is complete.
***********************************************************************
Please read all these instructions as they are extremely important for the safety of everyone and to ensure that everyone gets to see the reindeer.
FREE tickets can be purchased (for FREE) on our website. They will help us keep track of admittance.
Times will be strictly enforced due to the extremely high demand.
If you do not have a ticket you can stand in line and wait for an open spot. (Tickets Preferred)
Coordinators will control the flow and will let you know when your turn has come.
Print/Screenshot your ticket order conformation after checkout showing your

 

time slot.
You need ONE TICKET PER PERSON, one for each child and each adult.
Let's ALL make this a safe and FUN event, with your help, patience, and cooperation we can do this!
Simply add a time to your cart, go through checkout, there is no cost. This is only so we can control the traffic and ensure everyone gets to see the reindeer.